How Hackers Evade Malware and Anti-Phishing Blacklists
By Erhan on April 24, 2017
Hi Morty,

On Friday 07 April 2017 your credit card ending in XXXX was stolen by the website
whatsappsubscribers.com which is a scam site pretending to be WhatsApp.
Additional personal information including your full name, date of birth,
telephone number, email, home address, card expiration, and card CVV was also
stolen.

I highly suggest contacting your bank and cancelling your card immediately. Ask
your bank about putting a Fraud Alert on your credit report. You should also
strongly consider filing a police report.

You may be wondering how I know about this. I run a cybersecurity company that
creates a free browser extension for Chrome called NoHack that stops and tracks
these kinds of scams. In our own systems, I noticed this site was flagged and upon
further investigation discovered a list of victims containing your information. I
felt a moral obligation to quickly inform you before further damage can be done.

I'm sorry this happened to you and hope nothing more comes of this.  
---
Every morning for the last few weeks, I've been sending out this email to a list of victims in a carding scam we discovered targeting WhatsApp users in the UK thanks to people using our NoHack chrome extension.
Despite our efforts to get the site blacklisted in various sources like Google's Safe Browsing and PhishTank, it remained online for months. Each day had at least 3 new victims.
This kind of scam is nothing new, but what makes this scam so interesting is how it managed to stay online with very little effort, or sophistication.
It's unsophisticated because this is how simple the attack is:
1) The attacker sends out an SMS or email similar to this:

2) The victim enters personal information like credit card details, date of birth and security answers.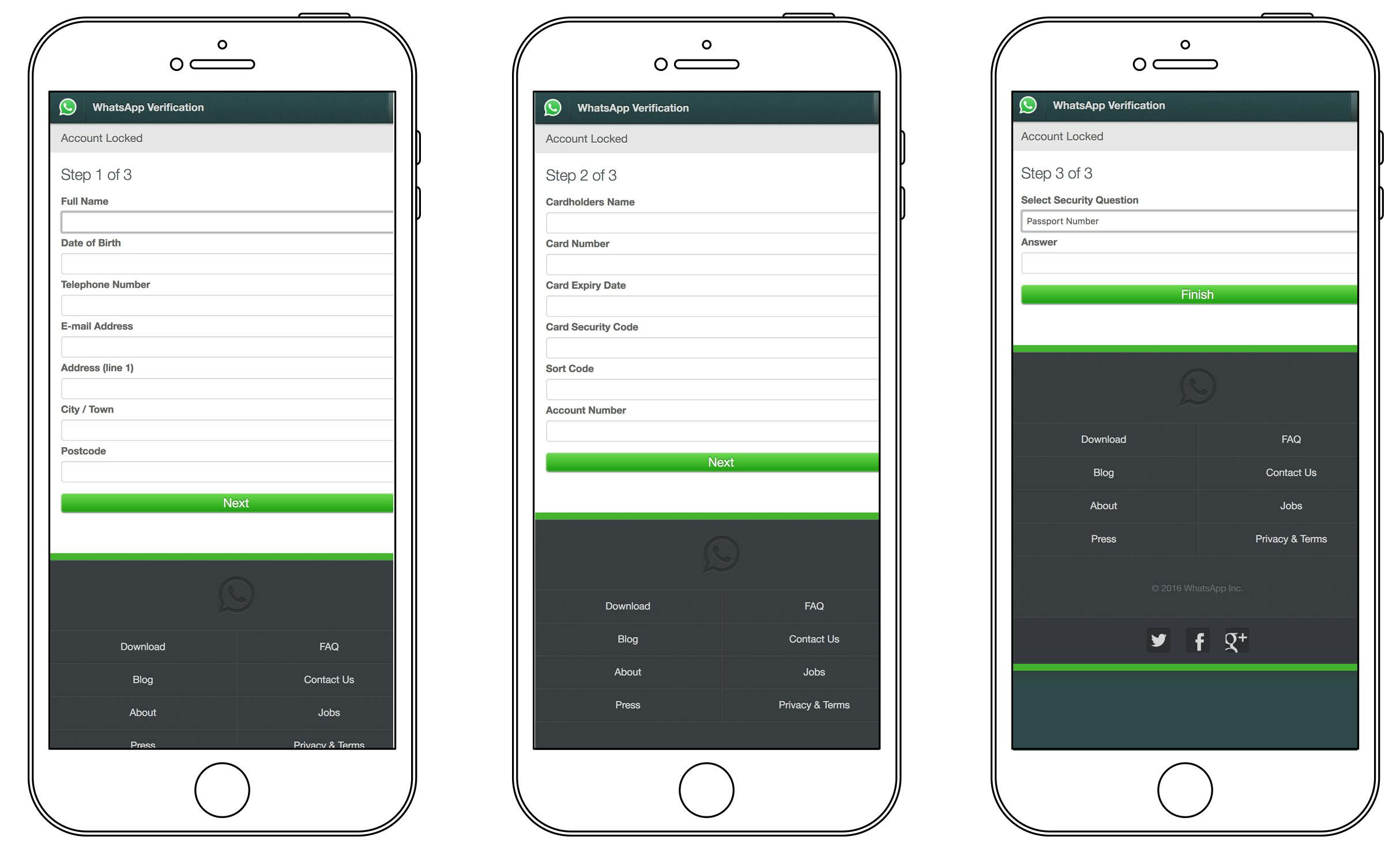 3) The scammer receives an email with all the info that looks like this:
+ ------------- Data Compromised -------------+
+ ------------------------------------------+
+ Personal Information
| Name : Morty Smith
| Dob : 01/09/2003
| Telephone : 012345678912
| Email : morty.smith@getschwifty.com
| Address : Earth (Dimension C-137)
+ ------------------------------------------+
+ Billing Information
| Card BIN : 000000
| Card Bank : Galactic Federation
| Card Type : DISCOVER
| Cardholder Name : Morty Smith
| Card Number : 6011318314693334
| Card Exp : 01 / 21
| CVV : 000
| Account No : 00000000
| Sort Code : 00-00-00
+ ------------------------------------------+
+ Security Information
| Mothers Maiden Name : sanchez
+ ------------------------------------------+
+ Victim Information
| Submitted by : 94.142.241.111 (galactic.federation.earthlink.com)
| Location : Earth (Dimension C-137)
| UserAgent : Mozilla/5.0 (Linux; Android 6.0.1;)
| Browser : Chrome
| Os : Android
| Received : Tuesday 11 April 2017 @ 15:47
+ ------------------------------------------+
---
This site was online from September 2016 to April 2017 until we finally got the hosting provider to ban it. It took them several weeks while the site actively evaded blacklists.
While the site was online, we were able to determine the following attack statistics:
3-5 victims per day
Average Victim Age: 56
Attack Reach: At least 9k
Cards Stolen: 700+
Attack Conversion: At least 8%
Corporate emails used 12% of the time in victim sample
Visitors by Operating System
Windows: 3399, iPhone: 1959, Android: 1506, OSX: 1029, iPad: 114, Other: 367
If we assume each victim loss is about $250.00 that's a loss of at least $175,000. That's crazy considering the scam was probably done automatically with a press of a button.
In fact, I know the scammer was lazy because I was able to get the above statistics from the site's homepage: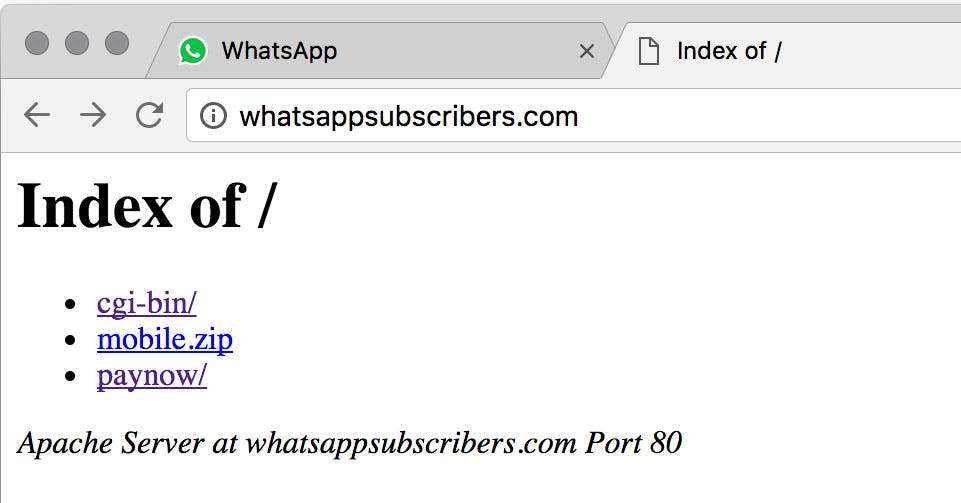 What you are looking at is the code for this scammers's site including snippets of the victim information accidentally left out in the open for everyone to see. The file mobile.zip hilariously contained the attack code, which I was able to use to see more exposed data and resources.
The code was in PHP and was rather simple, it featured:
AES 256 encryption of results
Abuse and profanity filter (you can't spam results)
Rate throttling (you can't DoS the endpoints)
Control and session protection
Email result configuration
Pretty neat stuff, but the secret sauce that allowed it to stay online for so long was it's anti-blacklisting functionality. This feature had three main components:
Behavior analysis based on geolocation, browser fingerprinting, and one time access (which blocks an IP after multiple visits)
Domain priming where the attack page checks it's own IP reputation
Adblock like subscription with an auto-updating blacklist to block security companies
Yup, that means anti-phishing and malware blacklists are not nearly as effective as we think they are. When a security service scans the internet and finds a malware or phishing site, it can't differentiate between a real attack site and a fake attack site.
Hackers lure security services into fake attack sites to build a security service blacklist. When a real attack site encounters a blacklisted security service, it shows a completely different page, allowing it to fly under the radar. Basically, a blacklist to blacklist the blacklisters.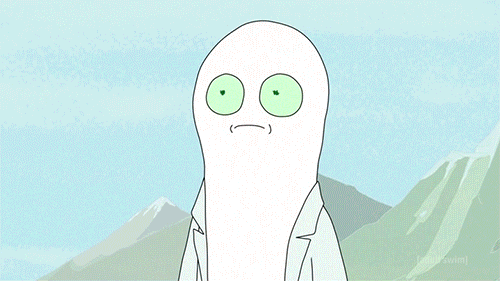 Here's the blacklisted services from this scam:
NETCRAFT
KASPERSKY
OPENDNS
INTERNET SYSTEMS CONSORTIUM ( PHISHTANK )
BITDEFENDER
SURFRIGHT
FORTINET TECHNOLOGIES
GOOGLE APPS
TOR SERVERS
AMAZON
OVH
RACKSPACE
JAPAN NETWORK INFORMATION CENTER
HOSTING SOLUTIONS UKRAINE
NEW DREAM NETWORK
RCS & RDS RESIDENTIAL
TORNET
ROMTELECOM
NETPILOT ( CLEAN-MX.DE )
DATAPIPE
PEER 1 NETWORK
ANEXIA
LEXSI
FASTWEB ITALY
GOOGLE CHROME
ADNET TELECOM
MCAFEE IP RANGE
HOSTWAY ROMANIA
NOISEBRIDGE
QUBE MANAGED SERVICES
FORMLESS NETWORKING
CHAOS COMPUTER CLUB
MICROSOFT SINGAPORE
ALIENVAULT
AVIRA
COMODO GROUP
AVG TECHNOLOGIES
ESET
DOCTOR WEB
PANDA SECURITY
SYMANTEC
INETU INC
ABOVENET COMM.
LEVEL 3 COMM.
INTERNAP
INTERNET IDENTITY
RELIANCE INFOCOM INDIA
MICROSOFT
G-DATA SOFTWARE
SOPHOS
DATATRAN SYSTEMS
NETSUMO
THE NEW YORK INTERNET COMPANY
TECHCREA SOLUTIONS
SOLUTIONPRO INC.
MOSCOW LOCAL TELEPHONE NETWORK
MAXIS BROADBAND MALAYSIA
2COM CO
POWERTECH INFO SYSTEMS
LINODE
ARUBA S.P.A.
MASSACHUSETTS INSTITUTE OF TECHNOLOGY
INTEGRA TELECOM
ZWIEBELFREUNDE ( TOR EXIT NODES )
AT&T
MALCOVERY SECURITY
TIME WARNER CABLE
OPAL TELECOM DSL
BEZEQINT BROADBAND
UNSPAM TECHNOLOGIES
HURRICANE ELECTRIC
TELUS COMMUNICATIONS
NEOSTRADA ADSL
MAROCTELECOM
HOSTDIME
HETZNER ONLINE
MICHEAL MCDONOUGH
JIFFYBOX SERVERS
THEPLANET.COM
EDION CORP.
FHCDMA WIRELESS NETWORK
ONEANDONE INTERNET
RACKSPACE CLOUD SERVERS
ADRIAN HALMAGYI
CORBINA TELECOM
PSINET INC.
RUTGERS UNIVERSITY
EBAY INC.
UROSPACE
ADATPARK
VIAWEST
TOR EXIT NODES
SOPRADO GMBH
RELIABLE WEB SERVICES
SWISS PRIVACY FOUNDATION
UBIQUITY SERVER
SECURE DRAGON
INTERGENIA
A1COLO
BT UK
CHINANET
KEYWEB
FDCSERVERS
LEASEWEB GERMANY
EUSERV.DE
A100 ROW
MICROSOFT
WEHOSTWEBSITES.COM
ANTISPAM EUROPE
YAHOO
MOSCOW COLOCATION
HOSTMASTER LIBERTY GLOBAL
GOOGLE CLOUD
OPERA
INDIAN ISP ( MICROSOFT/GOOGLE-RELATED )
GODADDY
CORPORATION SERVICES WORLDWIDE
NETVISION
GOOGLE CLOUD
TRUSTWAVE HOLDINGS
WEBSENSE-NET2
Internap Network Services Corporation
DomainSONOCrawler
VERISIGN
Trend Micro Incorporated Japan
TI RUSSIA
Domaintools, LLC
Ovh Hosting, Inc - CANADA
Latisys - Denver, LLC
RACKSPACE : PART 2
The Calyx Institute
Datasource Ag : Switzerland
Net By Net Holding Llc : RUSSIA (too many to list)
Global Frag Networks
United Networks of Ukraine, Ltd
Prescient Software, Inc
Fireeye, Inc
Boston University
Carnegie Mellon University
Codero
Abovenet Communications, Inc
Golden Lines : Israel
China Internet Network Information Center
Handy Networks, LLC
Bezeq International : Israel
Fieldtech Inc
Ovh Sas : France
Ovh Sas - Germany
Energy Group Networks Llc
Amazon.com, Inc
Powertech Information Systems As : Norway
Netvision Ltd : Israel
Rcs & Rds S.a - Romania
Ovh Sas - Lithuania
Ficolo Cust. 1158 - Finland
Zhejiang Taobao Network Co. Ltd
SOLAR-VPS
Chinanet Jiangsu Province Network
YBV : China
Microsoft Corporation
Aliyun Computing Co. Ltd : CHINA
Versaweb, LLC : USA
Fop Tokarchuk Oleksandr Stepanovich : UKRAINE
Chinanet Fujian Province Network
Bluehost Inc : USA
National Cable Networks : RUSSIA
Hostgator.com Llc : USA
Green House Data, Inc : USA
Hetzner Online Ag : GERMANY
Some interesting tidbits. TOR exit nodes are blocked and Noisebridge and CCC (popular hackerspaces) are blocked too.
Additionally, the scammer can use a whitelist strategy to block everything except users of certain internet service providers. For example, Vodaphone users in the UK.
So why are we able to discover and stop this attack where other tech giants have failed?
We are able to accurately assess malware and phishing behaviors from only a few tracked samples provided by our small community of NoHack users via One-Shot Learning. We don't rely on blacklists and we don't have to scan the web.
For now, I want to thank our small community of users who saved numerous individuals from credit card fraud. Here are some of the Thank You replies I received.
Dear Erhan,

Thanks very much for the tip off. I contacted the credit card provider and we spotted
fraudulent attempts to use my card today. The card is now cancelled and will be
re-issued, so thanks again for your vigilance and for alerting me -- it's much
appreciated.  
---
Thank you so much. I called the bank and cancelled the card, although I am not sure
about the value of the other information I provided. Does your app work in Safari?  
---
Erhan,

That is very kind of you to reach out and let me know. Other than cancelling my
card, is there anything else I need to do?  
---
Still not blacklisted, but it's finally offline.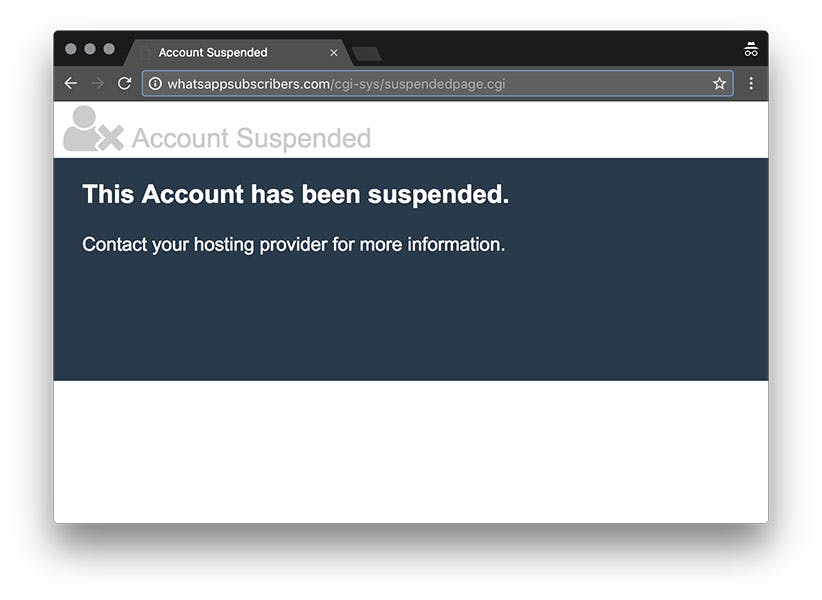 ...unless that's a fake page and I've been blacklisted too ;)
---
---
About Apozy
Founded in April of 2014 in San Francisco, we are a venture-backed motley crew of passionate hackers building cybersecurity technologies to make the world's information faster, cleaner and safer to access.